Quellenangabe:
Developments in the Central Mediterranean, December 2018 (vom 28.12.2018),
URL: http://no-racism.net/article/5507/, besucht am 04.06.2023
[28. Dec 2018]
Developments in the Central Mediterranean, December 2018
Alarm Phone 6 Week Report, 12 November - 23 December 2018: In December 2018, merely a few hundred people were able to escape Libya by boat. It cannot be stressed enough how dramatic the decrease in crossings along this route is ...
... – a year before, 2,327 people escaped in December, in 2016 even 8,428. 2018 is the year when Europe's border regime 'succeeded' in largely shutting down the Central Mediterranean route. It required a combination of efforts – the criminalisation of civil search and rescue organisations, the selective presence of EU military assets that were frequently nowhere to be found when boats were in distress, the closure of Italian harbours and the unwillingness of other EU member states to welcome the rescued, and, most importantly, the EU's sustained support for the so-called Libyan coastguards and other Libyan security forces. Europe has not only paid but also trained, funded and politically legitimised Libyan militias whose only job is to contain outward migratory movements, which means capturing and abducting people seeking to flee to Europe both at sea and on land. Without these brutal allies, it would not have been possible to reduce the numbers of crossings that dramatically.

The 'Nivin case' of November 7th exemplifies this European-Libyan alliance. On that day, a group of 95 travellers reached out to the Alarm Phone from a boat in distress off the coast of Libya. Among them were people from Ethiopia, Somalia, South Sudan, Pakistan, Bangladesh and Eritrea. Italy refused to conduct a rescue operation and eventually they were rescued by the cargo vessel Nivin. Despite telling the rescued that they would be brought to a European harbour, the crew of the Nivin returned them to Libya on November 10th. At the harbour of Misrata, most of the rescued refused to disembark, stating that they would not want to be returned into conditions of confinement and torture. The people, accused by some to be 'pirates', fought bravely against forced disembarkation for ten days but on the 20th of November they could resist no longer when Libyan security forces stormed the boat and violently removed them, using tear gas and rubber bullets in the process. Several of the protestors were injured and needed treatment in hospital while others were returned into inhumane detention camps.[3]

Also over the past 6 weeks, the period covered in this report, the criminalisation of civil rescue organisations continued. The day that the protestors on the Nivin were violently removed, Italy ordered the seizure of the Aquarius, the large rescue asset operated by SOS Méditerranée and Médecins Sans Frontières that had already been at the docs in France for some time, uncertain about its future mission. According to the Italian authorities, the crew had falsely labelled the clothes rescued migrants had left on the Aquarius as 'special' rather than 'toxic' waste.[4] The absurdity of the accusation highlights the fact that Italy's authorities seek out any means to prevent rescues from taking place, a "disproportionate and unfounded measure, purely aimed at further criminalising lifesaving medical-humanitarian action at sea", as MSF noted.[5] Unfortunately, these sustained attacks showed effect. On the 6th of December, SOS Med and MSF announced the termination of its mission: "European policies and obstruction tactics have forced [us] to terminate the lifesaving operations carried out by the search and rescue vessel Aquarius." As the MSF general director said: "This is a dark day. Not only has Europe failed to provide search and rescue capacity, it has also actively sabotaged others' attempts to save lives. The end of Aquarius means more deaths at sea, and more needless deaths that will go unwitnessed."[6]

And yet, despite this ongoing sabotage of civil rescue from the EU and its member states, three vessels of the Spanish, German, and Italian organisations Open Arms, Sea-Watch and Mediterranea returned to the deadliest area of the Mediterranean in late November.[7] This return is also significance for Alarm Phone work in the Central Mediterranean: once again we have non-governmental allies at sea who will not only document what is going on along the deadliest border of the world but actively intervene to counter Europe's border 'protection' measures. Shortly after returning, one of the NGOs was called to assist. Fishermen had rescued a group of travellers off the coast of Libya onto their fishing vessel, after they had been abandoned in the water by a Libyan patrol boat, as the fishermen claimed. Rather than ordering their rapid transfer to a European harbour, Italy, Malta and Spain sought out ways to return the 12 people to Libya. The fishing boat, the Nuestra Madre de Loreto, was ill-equipped to care for the people who were weak and needed medical attention. However, they were assisted only by Proactiva Open Arms, and for over a week, the people had to stay on the fishing boat. One of them developed a medical emergency and was eventually brought away in a helicopter. Finally, in early December, they were brought to Malta.[8]

Around the same time, something rare and remarkable happened. A boat with over 200 people on board reached the Italian harbour of Pozzallo independently, on the 24th of November. Even when they were at the harbour, the authorities refused to allow them to quickly disembark – a irresponsible decision given that the boat was at risk of capsizing. After several hours, all of the people were finally allowed to get off the boat. Italy's minister of the interior Salvini accused the Maltese authorities of allowing migrant boats to move toward Italian territory.[9] Despite their hardship, the people on the Nuestra Madre de Loreto and the 200 people from this boat, survived. Also the 33 people rescued by the NGO Sea-Watch on the 22nd of December survived. Others, however, did not. In mid-November, a boat left from Algeria with 13 young people on board, intending to reach Sardinia. On the 16th of November, the first body was found, the second a day later. Three survived and stated later that the 10 others had tried to swim to what they believed to be the shore when they saw a light in the distance.[10] In early December, a boat with 25 people on board left from Sabratha/Libya, and 15 of them did not survive. As a survivor reported, they had been at sea for 12 days without food and water.[11]

Despite the overall decrease in crossings, what has been remarkable in this region is that the people escaping have more frequently informed the Alarm Phone directly than before. The case mentioned earlier, from the 20th of December, when people from a convoy of 3 boats carrying 313 people in total reached out to us, exemplifies this. Detected by the Colibri reconnaissance aircraft and rescued by Proactiva, this case demonstrates powerfully what international solidarity can achieve, despite all attempts by EU member states and institutions to create a zone of death in the Central Mediterranean Sea.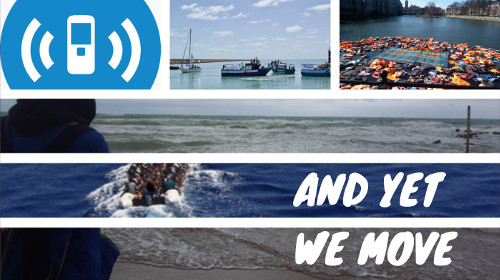 Notes

[3] https://af.reuters.com/article/africaTech/idAFKCN1NH1QR-OZATP?fbclid=IwAR3f73kiJ3g4ebSzxhr1INEp-8s1RsjM0jy65S_Ev9tEbGFlajH20PZEeDE
https://www.lemonde.fr/international/article/2018/11/13/a-misrata-la-resistance-desesperee-de-migrants-interceptes-en-mer_5383107_3210.html
https://www.amnesty.org.uk/press-releases/libya-migrants-refusing-disembark-ship-must-not-be-forced-detention;
https://www.theguardian.com/world/2018/nov/17/migrants-fleeing-libya-refuse-to-leave-ship-and-be-sent-back-to-country
https://www.bbc.com/news/world-africa-46255984
https://www.aljazeera.com/news/2018/11/barricaded-refugees-ready-die-return-libya-detention-181118162855287.html

[4] https://www.theguardian.com/world/2018/nov/20/italy-orders-seizure-aquarius-migrant-rescue-ship-hiv-clothes?fbclid=IwAR0MUVtIY27K2Mc5Y0YxBnWKod9ayAwWavjVQx2l4Q_E6dGwoalT3Jbw43c

[5] https://www.msf.org/sinister-attacks-italian-authorities-lifesaving-search-and-rescue-mediterranean

[6] https://www.doctorswithoutborders.org/what-we-do/news-stories/news/mediterranean-msf-rescue-ship-aquarius-forced-terminate-operations

[7] https://www.repubblica.it/cronaca/2018/11/22/news/migranti_le_ong_tornano_in_mare_per_salvare_vite-212324210

[8] https://www.amnesty.org/en/latest/news/2018/11/stranded-refugees-and-migrants-must-be-immediately-allowed-to-dock-in-italy-or-malta
https://www.middleeasteye.net/news/migrants-brought-malta-spanish-fishing-boat-after-long-standoff-442845009

[9] https://www.tagesschau.de/ausland/italien-migranten-105.html

[10] https://www.lastampa.it/2018/11/12/italia/scontro-tra-barchini-nel-mediterraneo-scomparsi-migranti-lappello-delle-famiglie-aiutateli-b3frN0fXrE80lnTaQmMmaM/pagina.html
https://www.ilfattoquotidiano.it/2018/11/17/migranti-naufragio-al-largo-della-sardegna-due-morti-e-8-dispersi/4771676/
https://www.unionesarda.it/articolo/news-sardegna/sulcis-iglesiente/2018/11/18/il-racconto-dei-superstiti-li-abbiamo-visti-scomparire-136-798467.html

[11] http://www.infomigrants.net/fr/post/13708/libye-quinze-migrants-morts-de-faim-retrouves-dans-un-canot-a-la-derive
https://af.reuters.com/article/topNews/idAFKBN1O310G-OZATP



More of Alarm Phone 6 Week Report:

:: Introduction: And Yet We Move - 2018, a Contested Year
Auf deutsch :: Einleitung: Und Wir Bewegen Uns Doch - 2018, ein umkämpftes Jahr
:: Developments in the Western Mediterranean Sea
:: Developments in the Aegean Sea

:: Full Alarm Phone 6 Week Report, 12 November - 23 December 2018 @ alarmphone.org
Source :: alarmphone.org, 27. Dec 2018.