Quellenangabe:
Developments in the Aegean Sea, December 2018 (vom 28.12.2018),
URL: http://no-racism.net/article/5508/, besucht am 01.10.2023
[28. Dec 2018]
Developments in the Aegean Sea, December 2018
Alarm Phone 6 Week Report: Over the final weeks of 2018, between the 12th of November and the 23rd of December, 78 boats arrived on the Greek islands while 116 boats were stopped by the Turkish coast guards and returned to Turkey.
This means that there were nearly 200 attempts to cross into Europe by boat over five weeks, and about 40 percent of them were successful.[16] Over the past six weeks, the Alarm Phone was involved in a total of 19 cases in this region. 6 of the boats arrived in Samos, 3 of them in Chios, and one each on Lesvos, Agathonisi, Farmkonisi, and Symi. 4 boats were returned to Turkey (3 of them rescued, 1 intercepted by the Turkish coastguards). In one distress situation, a man lost his life and another man had to be brought to the hospital due to hypothermia. Moreover, the Alarm Phone was alerted to 2 cases along the Turkish-Greek land border. While in one case their fate remains uncertain, the other group of people were forcibly pushed-back to Turkey.

Thousands of people still suffering in inhuman conditions in hotspots: When we assist boats crossing the Aegean Sea, the people are usually relieved and happy when arriving on the islands, at least they have survived. However, this moment of happiness often turns into a state of shock when they enter the so-called 'hotspots'. Over 12,500 people remain incarcerated there, often living in tents and containers unsuitable for winter in the five EU-sponsored camps on Lesvos, Samos, Chios, Kos, and Leros. In addition to serious overcrowding, asylum seekers continue to face unsanitary and unhygienic conditions and physical violence, including gender-based violence. Doctors without Borders has reported on a measles outbreak in Greek camps and conducted a vaccination campaign.[17] Amnesty International and 20 other organizations have published a collective call: "As winter approaches all asylum seekers on the Aegean islands must be transferred to suitable accommodation on the mainland or relocated to other EU countries. […] The EU-Turkey deal containment policy imposes unjustified and unnecessary suffering on asylum seekers, while unduly limiting their rights."

The 'humanitarian' crisis in the hotspots is the result of Greece's EU-backed policy of containing asylum seekers on the Aegean islands until their asylum claims are adjudicated or until it is determined that they fall into one of the 'vulnerable' categories listed under Greek law. But as of late November, an estimated 2,200 people identified as eligible for transfer are still waiting as accommodation facilities on the mainland are also severely overcrowded. Those who are actually transferred from the hotspot on Lesvos to the Greek mainland are brought to far away camps or empty holiday resorts without infrastructure and without a sufficient number of aid workers.

Criminalisation along Europe's Eastern Sea Border: A lot has been written about the many attempts to criminalise NGOs and activists carrying out Search and Rescue operations in the Mediterranean. Much less publicly acknowledged are the many cases in which migrant travellers themselves become criminalised for their activist involvement, often for protesting against the inhuman living conditions and the long waiting times for the asylum-interviews. The case of the 'Moria 35' on Lesvos was a case in point, highlighting how a few individual protesters were randomly selected by authorities to scare others into silence and obedience. The Legal Centre Lesvos followed this case closely until the last person of the 35 was released and they shared their enquiries with "a 15-month timeline of injustice and impunity" on their website: "On Thursday 18th October, the last of the Moria 35 were released from detention. Their release comes one year and three months – to the day – after the 35 men were arbitrarily arrested and subject to brutal police violence in a raid of Moria camp following peaceful protests, on July 18th 2017." While the Legal Centre Lesbos welcomes the fact that all 35 men were finally released, they should never have been imprisoned in the first place. They will not get back the 10 to 15 months they spent in prison. Moreover, even after release, most of the 35 men remain in a legally precarious situation. While 6 were granted asylum in Greece, the majority struggles against rejected asylum claims. Three were already deported. One individual was illegally deported without having exhausted his legal remedies in Greece while another individual, having spent 9 months in pre-trial detention, signed up for so-called 'voluntary' deportation.[18] In the meantime, others remain in prison to await their trials that will take place with hardly any attention of the media.

Humanitarian activists involved in spotting and rescue released after 3 months: The four activists, Sarah Mardini, Nassos Karakitsos, Panos Moraitis and Sean Binder, were released on the 6th of December 2018 after having been imprisoned for three months. They had been held in prolonged pre-trial detention for their work with the non-profit organization Emergency Response Center International (ERCI), founded by Moraitis. The charges misrepresented the group as a smuggling crime ring, and its legitimate fundraising activities as money laundering. The arrests forced the group to cease its operations, including maritime search and rescue, the provision of medical care, and non-formal education to asylum seekers. They are free without geographical restrictions but the case is not yet over. Mardini and Binder still face criminal charges possibly leading to decades in prison.[19] Until 15 February the group 'Solidarity now!' is collecting as many signatures as possible to ensure that the Greek authorities drop the case.[20]

Violent Pushbacks at the Land Border: During the last six weeks, the Alarm Phone was alerted to two groups at the land border separating Turkey and Greece. In both situations, the travellers had already reached Greek soil, but ended up on Turkish territory. Human Right Watch (HRW) published another report on the 18th of December about violent push-backs in the Evros region: "Greek law enforcement officers at the land border with Turkey in the northeastern Evros region routinely summarily return asylum seekers and migrants […]. The officers in some cases use violence and often confiscate and destroy the migrants' belongings."[21] Regularly, migrants were stripped off their phones, money and clothes. According to HRW, most of these incidents happened between April and November 2018.[22] The UNHCR and the Council of Europe's Committee for Prevention of Torture have published similar reports about violent push backs along the Evros borders.[23]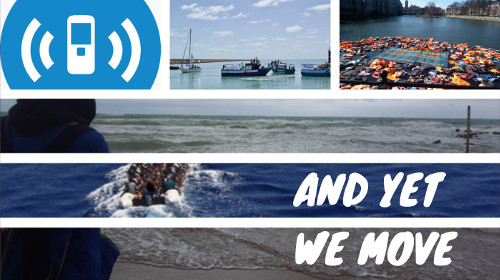 Notes

[16] https://www.facebook.com/AegeanBoatReport/

[17] https://www.doctorswithoutborders.org/what-we-do/news-stories/story/preventing-and-containing-outbreaks

[18] http://legalcentrelesvos.org/2018/11/29/the-case-of-the-moria-35-a-15-month-timeline-of-injustice-and-impunity/

[19] https://www.hrw.org/news/2018/12/05/humanitarians-released-bail-greece

[20] http://www.solidaritynow.org/en/sara_and_sean/

[21] https://www.hrw.org/news/2018/12/18/greece-violent-pushbacks-turkey-border

[22] https://amp.theguardian.com/world/2018/dec/18/greek-police-accused-beating-migrants-trying-to-enter-from-turkey

[23] https://www.unhcr.org/desperatejourneys/, https://rm.coe.int/16808afaf6



More of Alarm Phone 6 Week Report:

:: Introduction: And Yet We Move - 2018, a Contested Year
Auf deutsch :: Einleitung: Und Wir Bewegen Uns Doch - 2018, ein umkämpftes Jahr
:: Developments in the Central Mediterranean
:: Developments in the Western Mediterranean Sea

:: Full Alarm Phone 6 Week Report, 12 November - 23 December 2018 @ alarmphone.org
Source :: alarmphone.org, 27. Dec 2018.