Quellenangabe:
Solidarity with the Refugee Protests in Vienna (vom 29.12.2012),
URL: http://no-racism.net/article/4340/, besucht am 31.03.2023
[29. Dec 2012]
Solidarity with the Refugee Protests in Vienna
On the occasion of the eviction of the Refugee Protest Camp Vienna and the arrests of two refugee activists there are solidrity protests on Saturday, 29th of December 2012 in Vienna, Linz, Salzburg and Munich.
After the eviction, the hungerstrike of the refugees in the Votivchurch ist still going on :: since 22nd of December. For more information about the hungerstrike and the situation of the hungerstrikers come to the church or visit :: refugeecampvienna.noblogs.org.



Solidarity protests

First protests after the eviction happended on Friday, 28th of December in Munich and Berlin. In Munich some activists went to the Autrian Consulat and declared their solidarity with the struggle and the demands of the refugees in Vienna and demanded the immidiate relaese of the two refugee, who are put into detention during the eviction of the protest camp. On their banners they wrote "kein mensch ist illegal" (no one is illegal) and "Solidarity with the Refugee Struggle in Austria". (Report in german @ :: de.indymedia.org).
There was also a :: call for a protest on Friday afternoon in front of the Austrian Embassy in Stauffenbergstraße 1 in Berlin.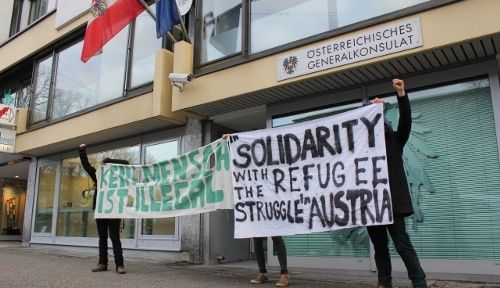 Solidarity demonstrations on Saturday, 29th of December 2012

Demonstrations against the eviction of the Refugee Protest Camp Vienna under false pretenses and in solidarity with the biggest selforganized protests of asylum seekers in Austrians recent history!

Linz, 2:30 pm Meeting point @ Schillerpark.

Munich, 3pm Meeting point @ Marienplatz.

Salzburg, 3:30 pm Manifestation in front of the detention centre, Alpenstraße 90

Vienna, 4.30 pm Meeting point @ former Refugee Protest Camp in Sigmund-Freud-Park (U2 Schottentor)
Route: Sigmund-Freud-Park - PAZ Rossauerlände - Ministry of Interior - Bundeskanzleramt (Chancelor's Office) - Sigmund-Freud Park
Come all! Bring your cooking pots! Together we are strong and loud!



International Statement of Solidarity

After the eviction and the arrests of two activists, an :: international statement was published. The subscribers declare: "All our support and solidarity to the protest of migrants and asylum seekers in Vienna!"

You can sign the Statment of Solidarity by writing an email to refugeeprotestvienna-solidarity (at) riseup.net (Subject: Solidarity Vienna). List with the signatories in :: refugeecampvienna.noblogs.org



We will rise!

On 26th of December a :: solidarity statement with the hungerstriking refugees was published by migrants community organisations in Austria. They call the migrants and their communities, to show their solidarity.

The coordination committee of the german-wide refugee strikes declared their :: solidarity with the hungerstriking refugees on 26th of December, too.