no border serbia produced an info flyer with independent information from activists and migrants from the terrain. (:: Download pdf)

Dear brothers and sisters,

here are some updates about the current situation (08. Nov 2015), these are independent information from activists and migrants from the terrain. Please keep in mind, that everything is changing quickly, so there is no guarantee that these information will be valid for longer time.



General Information

Since Hungary closed its borders (on Friday, 16th of October 2015), the large governments-organized »corridor« has been changed, and it's AGAIN going through Slovenia. Governments try to slow down the entering and limit the number of people who can enter. This leads to people being stuck for a day or more, unable to continue their traveling, in very hard conditions.



Situation on route through Croatia

People are entering Croatia at the border crossing Šid. According to the agreement between the Serbian and Croatian authorities since the 3th of November people are taken by organized trains (so far 4 -5 trains per day) directly from Šid (SRB) to Slavonski Brod (HR), where the new registration camp is located. The camp in Opatovac is empty now, it will be used only in case when the capacity in Slavonski Brod is full. The new procedure includes taking fingerprints, but so far fingerprint was not taken from those who refused this procedure. There is wi-fi connection in the area of the camp. After the registration the transport is controlled by the Croatian police. People are transferred by trains from the camp further to Dobova (Slovenia). Note that the transport in Croatia is free of costs. Many people lost their family members, friends because the police separated them. Please be careful and try to stick together all the time.



Situation on route through Slovenia

There is at the moment only one entry point into Slovenia (in Dobova, on Slovenian-Croatian border) and only one exit point (in Šentilj on Slovenian-Austrian border). When you are registered in Dobova, you will be taken by buses or trains EITHER directly to the exit point in Šentilj, OR you will be put into one of the accommodation centers for a night, supposedly to rest. These centers are located in Gornja Radgona, Vrhnika, Logatec, and possibly on some other locations. The centers vary in facilities, but some are not heated and do not have a possibility of taking a shower. After spending a night in the one of the accommodation center, you will be taken to the exit point in Šentilj.

IMPORTANT INFORMATION: on the Slovenian side of Šentilj border crossing, there is a camp, where food, clothes and medical care can be obtained. When you leave the camp, you might not be able to enter Austria immediately, but might be stuck for long hours in the "no man's land" between Slovenia and Austria, because Austria is letting people through more slowly. In the "no man's land", there is no food, no water, no toilets, no humanitarian assistance - so be prepared and equip on the Slovenian side yourself with everything you might need for a few hours or even a day waiting in the "no man's land". If you are feeling sick, make sure to see the doctor before entering "no man's land".

Registration procedure. When entering Slovenia, people are registered, around one person every two minutes. Police takes photo and fingerprints (we are not sure if this fingerprint is sent to the EURODAC database, which could lead to a Dublin deportation back to SLO). Police issues permit to stay for six months (only in Slovene language). During the registration transit process there is no wi-fi in centers, no chargers for phones. Translators employed by police are there only to interpret during registration procedures.



Austria

Austria announced they will not close the border as long as Germany also keeps the border open, so the rumor that Austria closed the border is NOT true, but people have to wait long hours (since entering goes very slowly). People cross the border to Austria mainly at the official crossings at Spielfeld and Radkersburg. Doctors are at the border that you can turn to for free, and there is WIFI being installed now. After entering to Austria people have to wait again for busses. If you arrive late at night you might have to spend the night there - in big tents - and get on a bus only the next morning. Busses are NOT forcibly going to the German border. This is a rumor, and it is the reason why people who want to apply for asylum in Austria are afraid of getting on the busses. Busses are going to any mass accommodation available, anywhere in Austria. At the moment, you can then either await asylum application OR continue to the German border.

The general situation is, that it is still possible to cross to Germany, but be prepared for some waiting time in the process, as the German police is quite slow in receiving the people.

Please be aware that everything is changing all the time. We would be happy to get updates from you, of course in case you have time and energy for it. Sharing your personal experience about changes and other useful information can be precious for the people who will travel the same way.



Contacts:

In Serbia
No border collective
info number: 00381616450529 (viber and what's up)
mail: noborderserbia (at) riseup.net
website :: noborderserbia.wordpress.com

In Croatia
No border Zagreb
info number: 00385998458911
mail: noborderzagreb (at) riseup.net

In Slovenia
Fronta brez meja
info number : 00386 30 321 843 (viber and what's up, but not online all the time, better to send a message and people will try to call you back
mail: frontabrezmeja (at) gmail.com
Twitter :: twitter.com/BrezMeja

Welcome to Europe network
Independent information for refugees and migrants
Webpage :: w2eu.info
Mails: w2eu_info (at) yahoo.com // w2eu (at) hotmail.com Latest updates on the route :: live.w2eu.info


If you lost your child(ren) there is an EU emergency number: 116000
If you are looking for your relatives: +43 591 331 033 33.


We wish you a safe journey. Freedom of movement and right to travel for all! Down with fences and walls! Solidarity is our power!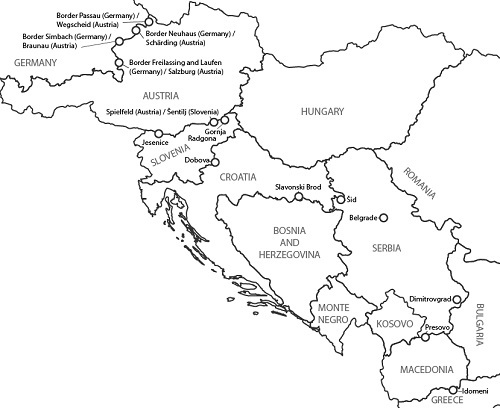 Article and info-flyer by no border serbia, published first on 08. Nov 2015 in :: noborderserbia.wordpress.com.