On 12th of November 2012 about 50 People protestes at Nigerian embassy in Vienna, to deman an end of the collaboration with deportations and to stop the destruction of the Niger Delta by various oil multinational companies. Call and audio report.
Audio Interview with activists

Radio report by ZIP-FM-Lokalausgabe for Radio Orange in Vienna

:: Listen Audiofile, mp3, 7.26 MB, 7 min 55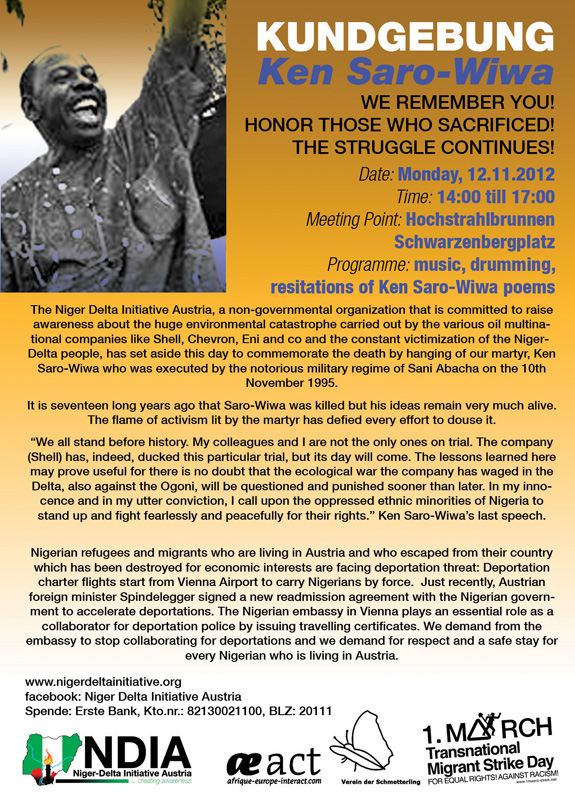 12th of November: Protest at Nigerian embassy in Vienna!

The Niger-Delta Initiative Austria (with the support of Afrique Europe Interact, 1st of March Migrants Strike Initiative and Verein "Die Schmetterlinge") calls for a rally on Monday, 12th of November 2012, to commemorate the Nigerian activist Ken Saro Wiwa, who was murdered in 1995 and to condemn the ongoing destruction of the Niger Delta for the interests of oil companies. Moreover, they want to protest against the violation of Human Rights of Nigerian people by deportations from Austria.

Here's the call:

Rally
Ken Saro-Wiwa:
We remember you!
Honor those who sacrificed!
The struggle continues!

Date: Monday, 12.11.2012
Time: 14:00 till 17:00
Meeting Point: Hochstrahlbrunnen Schwarzenbergplatz

The Niger Delta Initiative Austria, a non-governmental organization that is committed to raise awareness about the huge environmental catastrophe carried out by the various oil multinational companies like Shell, Chevron, Eni and co and the constant victimization of the Niger-Delta people, has set aside this day to commemorate the death by hanging of our martyr, Ken Saro-Wiwa who was executed by the notorious military regime of Sani Abacha on the 10th November 1995.

It is seventeen long years ago that Saro-Wiwa was killed but his ideas remain very much alive. The flame of activism lit by the martyr has defied every effort to douse it.

"We all stand before history. My colleagues and I are not the only ones on trial. The company (Shell) has, indeed, ducked this particular trial, but its day will come. The lessons learned here may prove useful for there is no doubt that the ecological war the company has waged in the Delta, also against the Ogoni, will be questioned and punished sooner than later. In my innocence and in my utter conviction, I call upon the oppressed ethnic minorities of Nigeria to stand up and fight fearlessly and peacefully for their rights." Ken Saro-Wiwa's last speech

Nigerian refugees and migrants who are living in Austria and who escaped from their country which has been destroyed for economic interests are facing deportation threat: Deportation charter flights start from Vienna Airport to carry Nigerians by force. Just recently, Austrian foreign minister Spindelegger signed a new readmission agreement with the Nigerian government to accelerate deportations. The Nigerian embassy in Vienna plays an essential role as a collaborator for deportation police by issuing travelling certificates. We demand from the embassy to stop collaborating for deportations and we demand for respect and a safe stay for every Nigerian who is living in Austria.