On 20th of November 2012, more then 100 Afghan refugees protested in front of the parliament in Budapest. Next protest announced for 23rd of November.
The refugees shouted many slogans like, "we need jobs", "we need homes", "we need (a better) future", "help us", "no home, no job, how can we live", and many more. On the videos from protest you can hear the children speaking in hungarian and say: "we want housing" and "the Hungarian are rich we are not".

During the protest, the refugees handed in a petition to the ministry of interior. In the response the ministry wrote that they spent soooo much money on the refugees and integrated them soooo well. Helsinki comitee Hungary commented the response, they appreciate the speed of response but do not appreciate the content: the refugees in Bicske (only 100 to 200 persons) are all recognized in one or other way and should be integrated and threated as Hungarians - what they are not. Even threated worse then the unemployed, homeless, whose situation also get worse and worse... (More about :: The Situation of Refugees in Hungary)

One supporter wrote about of the problems with the support of the protests: "Well still face the problem of not knowing each other and lack of solidarity. Only a few Hungarians showed up and even from other refugee comunities no one is seen on the video."



The Refugees are protesting again

The refugees will go to the Parliament again on 23rd of November 2012, because they are not satisfied with the answer of the Ministry of Home Affairs to their questions.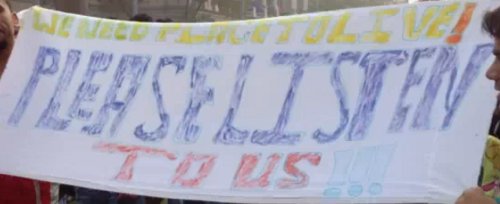 Call for the protest

Refugees from the Bicske camp will to demonstrate in front of the Parliament from 10 am on Tuesday (20 Nov).

They will tell the government that integration is impossible within the present framework. The refugees are required by the government leave Bicske camp without accomodation prepared for them outside.

It is almost impossible for them to receive subsidies because of the impossible conditions. For most of them this 6 month long 'integration' means even more uncertainty. The medical help they receive is neither adequate nor enough and the current number of social workers is too few. In this uncertain environment they are also expected to integrate, to start a new life from a position of multiple disadvantages while recovering from trauma caused by persecution and escape.

The organisers will give a petition to the Hungarian parliament and will protest every day between 10am and 6pm until they get an adequate answer to their problems.

Please come and show your solidarity with them at the Parliament. The Hungarian government needs to know that it is not acceptable how refugees are treated in Hungary.