Over the past four days, the WatchTheMed Alarm Phone has collected information that strongly suggest that a boat carrying 40 migrants from several African countries seeking protection in Europe was illegally transferred into Tunisian territorial waters after having already reached international waters and the Maltese Search and Rescue (SAR) zone.
Among the group are eight women, two of whom are pregnant. The wooden boat had left from Libya and was rescued on Friday the 13th of July north of the oil platform Astrat in international waters and in the Maltese SAR zone by the supply vessel Sarost 5. MRCC Tunis as well as the crew of the supply vessel confirmed the position of the migrant boat in the Maltese SAR zone. Both Malta and Italy denied the supply vessel their permission to disembark the migrants in Maltese and Italian harbours.

The migrants are still in limbo. After rescue, they were provided with some food and brought to the oil platform. Later, the supply vessel took course on Sfax/Tunisia to disembark the people there. The authorities of Sfax, however, refused to allow them to disembark. They were then told to disembark in Zarzis/Tunisia. But since Monday the 16th of July, at 1am, they are also blocked from entering the port there.

We demand that the people are safely and immediately brought to a safe harbour in Europe. We demand that European coastguards take responsibility for coordinating Search and Rescue operations of boats in situations of distress in their Search and Rescue zones, as legally mandated. We demand a long-term solution that allows those in distress at sea to be swiftly disembarked in European harbours, rather than the case-by-case evaluations that we see currently, which unnecessarily prolong the suffering of those rescued. We also declare our solidarity with the crews of non-governmental and commercial vessels that carry out vital search and rescue operations despite the obstacles that European governments create.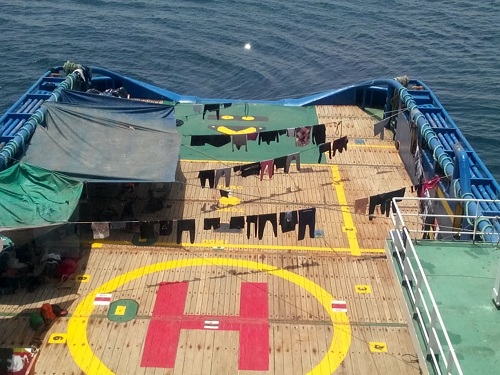 Press Release by WatchTheMed Alarm Phone from 18. July 2018, published first in :: alarmphone.org, german version / deutschsprachige Version auf :: borderlinesicilia.org.